Flexible Financing Options for Our Heating and Air Conditioning Service Solutions
At Clean Air Mechanical Inc., we understand that investing in a new HVAC system or undergoing major repairs can be a significant financial decision. That's why we offer flexible financing options to make your HVAC project more affordable. We believe that everyone deserves access to reliable and efficient heating and air conditioning service solutions without breaking the bank.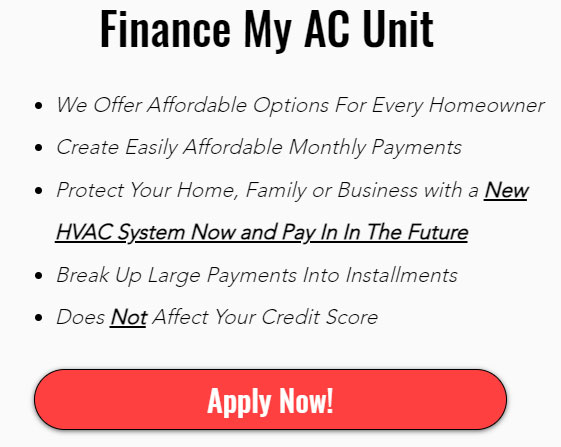 Benefits of Financing with Us
Budget-Friendly Payments: Our financing options allow you to spread the cost of your HVAC project over time, making it easier to manage your budget. You can enjoy the benefits of a new system or necessary repairs without a large upfront payment.
Fast and Easy Application Process: Applying for financing with Clean Air Mechanical Inc. is quick and hassle-free. Our team will guide you through the process, helping you complete the necessary paperwork and providing any assistance you need along the way.
Competitive Interest Rates: We have partnered with reputable financing providers to offer competitive interest rates. Our goal is to provide you with affordable financing solutions that fit your needs and budget.
Flexible Terms: We offer a range of financing terms to suit your preferences. Whether you prefer shorter or longer repayment periods, we can help you find a plan that aligns with your financial goals.
Improve Energy Efficiency: Upgrading to a more energy-efficient HVAC system can lead to long-term savings on your energy bills. With our financing options, you can make this beneficial investment without straining your finances.
Contact Us to Learn More
If you're interested in exploring financing options for your HVAC project, please contact Clean Air Mechanical Inc. Our team will be happy to provide detailed information about our financing partners, assist you in the application process, and answer any questions you may have.
Don't let financial concerns hinder your access to high-quality heating and air conditioning service solutions. Contact Clean Air Mechanical Inc. today and discover how our flexible financing options can make your heating and cooling dreams a reality. Contact us at (346) 874-8887 or email us at tlacey@cleanairmechanical.com.
Note: Financing options are subject to credit approval. Terms and conditions may apply.